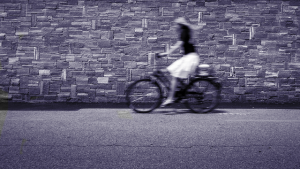 Why are you here? I don't mean why are we all here—I'm not a philosopher. I mean why are you here, in Berlin?
What brought you here? Was it work? Study? Or perhaps romance brought you here?
Aha. That's interesting. I didn't know people came here for that.
---
Well. Whatever brought you here I hope you're finding your feet, your Berlin and getting settled.
I'm sure you know how to get around by now. Moving by U-Bahn, tram, by bike or on foot, the city is a metropolis of movement. 
I didn't know people came here for that.
More than other cities, Berlin is easy to get around.
So here's your first tip.
1. Wie sagt man 'movement'? Bewegung is movement. It can be physical movement or an organisation or association. (Like the scout movement Pfadfinderbewegung.) 
And don't forget the protest movement Protestbewegung. 
Which Berlin is famous for! 
Now you're wondering what I'm doing here. Well I'll be giving you essential tips on surviving and thriving in Berlin.
Stuff like smashing a job interview, finding a tandem partner, and finding a school to help you learn German.  
All for free. 
---
On that note … I'd like to invite you to our free Smashing the German Job interview! event on Saturday, January 26, 2019, at All on Board school, Seestraße 27 in Wedding!
You'll meet the staff, learn some useful vocabulary, and do some fun activities.
You'll be greeted at the door and we'll explain how to improve your German in a nice environment—with us!
---
But back to movement. If you're relatively new here I bet you've moved house, with all those boxes, getting lost, and walking up to those Altbauwohnungen.
So here's your second and third tip.
2. Wie sagt man 'move house' auf Deutsch?
To move house = umziehen
We had to move house when I got a new job. Als ich eine neue Stelle bekam, mussten wir umziehen.
***But careful! Sich umziehen means to change clothes.
Entschuldige, ich muss mich umziehen = Excuse me, I must get changed.***
3. How do you say 'to be moved' by something in German? Remember that word Bewegung? That was the noun. We use the verb in a similar way to English.
I was moved by the film = Der Film hat mich bewegt
---
So that's your three ways to talk about movement in German. Oh I forgot—what about the half?
Well, if you're like me, then one consequence of moving is the arguments that sometimes erupt …
So I don't wish an argument on you—but here are the essential words in German, just in case!
3½. Wie sagt man 'to have an argument'?  Einen Streit haben
Example: Wie oft streitet ihr? How often do you (pl.) argue?
Answer: Wir streiten uns nie! We never argue!
You never argue … really? Not even at IKEA? 
---
Well that's all. I've given you some essential phrases to talk about movement and moving house.
Remember to book a German course call us on 030/3983 3993 or email us at info@allonboard.de
Check out our website. And keep your diary free for Saturday, January 26, 2019 – Smashing the German Job interview!
Stay warm and keep moving …
Tschüss!
---
Photo credit:
Free image Subway train
torange.biz CC 4.0