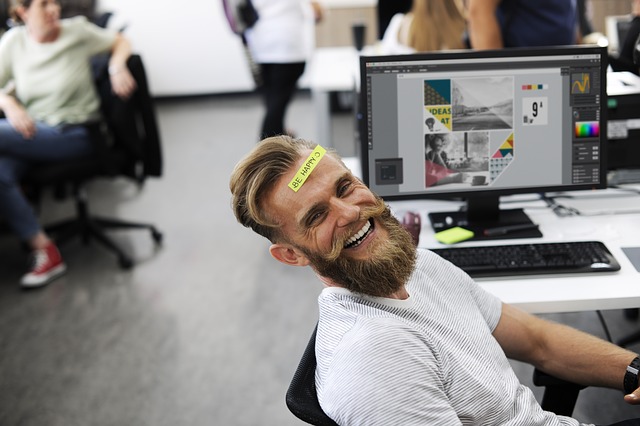 Is this the shortest blog post in history? No, it's not.  There ARE funny Germans believe me.
Let me prove it. You've walked around the city, yes? Walk around Mitte and you'll bump into Tucholskystraße, next to the gorgeous Neue Synagoge  on Oranienburger Straße.
And you've perhaps wondered about the name … pronounced too-KHOL-skee. (I know it's a bit of a tongue-twister …)
Well, Tucholskystraße is named after the Jewish-German writer Kurt Tucholsky. He wrote during the Weimar Republic of the 20s – that heady cocktail of political intrigue and social experiments – watch Babylon Berlin if you don't believe me! 
Famous for his short, satirical pieces, Tucholsky opposed the rising tide of nationalism and captivated Berliners with his sharp wit:
Die menschliche Dummheit ist international.
Human stupidity is international.
Considering the way things are going, I think he had a point …
Talking about humour in German
So Germans are funny. But do they like jokes? Yes of course! 
One perennial topic is Beamten. You know: inefficient bureaucrats. Those officials that work in the Rathaus (town hall) and other state beehives shuffling bits of paper, having meetings, and filing reports.
Drei in einem Büro und einer arbeitet? Zwei Beamte und ein Ventilator!                             
Three in the office, and one working? Two state officials and a fan!
Did you laugh? Thought you would. To get your German chuckle-muscle moving, here are some words to help you talk about jokes.
starker Humor = good sense of humour
lachen = to laugh
trockener Humor = dry humour
Witze erzählen = to tell jokes
witzig/ lustig = witty/ funny                                    gemein = mean
stumpf = blunt
harmlos = harmless
Now watch this video from Easy German. See if you can pick out all the words. And watch the reactions of Germans to jokes about Germany!
Life in Berlin
Funny, yes? Though not all the jokes were equally appreciated …
So the next time you get annoyed with life in Berlin. whether you're dealing with a stern-faced shopkeeper or Beamter, shrug it off with a smile and a Witze—because life can be funny in Germany, and Germans can be funny too. There's even a comedy club in Berlin to prove it!
Finally, what did Kurt Tucholsky say about Berliners?
'A Berliner isn't really diligent, just constantly agitated. He has completely forgotten, unfortunately, why we're here on this earth. Even in heaven—assuming a Berliner could make it to heaven—he would "have things to do" at four.'
In between your things to do I hope you enjoyed this post on German humour. Find us on Twitter, FB or Pinterest. Check out our other blog posts.
And stay warm in the winter chill.
Tschüss!