Translation Services & Proofreading
All on Board offers comprehensive professional translation services. We are specialized to proofread and translate in a range of formats. This includes among others, certificates, degrees/diplomas, CVs/resumés, letters of application, presentations and reports.
Certified translations for official documents such as certificates, contracts or official documents are part of our offer of services.
Our service for you: We would be more than happy to offer to you a sample translation for large orders.
Languages Offered
Experienced translators translate into and from the following languages: English, German, French and many more. Do you need another target language or are you unsure whether we are the right translation service provider for you? Please feel free to call us or send us an email for consultation!
Proofreading
We have qualified proofreaders who proofread important documents and reports for you. We guarantee you reliable results on your reports, emails, presentations or official documents on an academic level by native speakers.
Customized Quote
Would you like to know how much your translation will cost?
All on Board will gladly put together a free price estimate for you:
Send us the document to be translated and inform us of the desired delivery date.
If possible, please use the popular Office data formats (Word, Excel, PowerPoint) and send us the documents by email.
We look forward to doing business with you!
Translation Services:
Prices (excluding VAT) for all above-mentioned languages:
| Type of text | Price | Case |
| --- | --- | --- |
| Translation of standard text | € 1.50 | Average of 55 characters without spaces per line |
| Translation of certified documents/certificates | € 35.00 | Flat rate per page |
| Proofreading | € 30.00 | Per hour |
Minimum rate of € 25.00 per job and language.
Rush orders: additional 25%.
Other languages may have varying prices.
All on Board
Theresa Gorman
Managing Director
Seestr. 27
13353 Berlin
Tel: +49 (0)30 - 39 83 39 93
Fax: +49 (0)30 - 39 83 39 92
info@allonboard.de
www.allonboard.de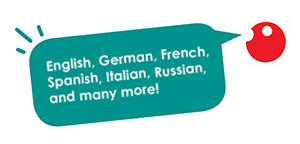 Reference:
"Definitely the most useful English course I've had so far at eBay. Important details for the everyday work routine."
Course participant from eBay