Our Team
Andrew
Andrew is a CELTA-qualified English Instructor who has been living in Berlin since 2006. Born and raised in the south-west of England, he graduated from Manchester Metropolitan University with a BSc in Psychology and Science & Technology Policy. After working as a web developer in diverse business areas he moved to Berlin in search of new adventures and a more people-focused profession. When not teaching, he enjoys keeping up with the latest developments in science and technology, programming and cooking (especially Indian). He speaks German and is learning Turkish.
Elena
Elena was born in Russia, studied in Potsdam, Germany, and finally settled in Berlin, where she lived and worked for a long time. Elena speaks five languages and plans to learn more in the future. She strongly believes that the best language teachers are not simply experts, but also lifelong learners.
In addition to her passion for linguistics, Elena has a love for sports, especially surfing and skating, and is also involved in several social organizations that support women and minorities and which advocate for inclusivity.
The ultimate goal of her teaching is to make it fun for learners to interact and share their enthusiasm for the German language. She wants to help people feel at ease and be able to communicate easily in their everyday life in Germany. Elena believes that diversity and a multicultural mix enrich life. She strongly believes that getting to know a new culture and language opens doors to exciting new experiences.
Barbara
Barbara is a Goethe DaF qualified language trainer from Germany. She studied French and Italian philology. In her view language is an important element for a social togetherness and for a successful integration. Communication is very important to her. She likes Berlin because it is huge and open-minded. In addition to that it also provides lots of cultural opportunities.
Carlos
Carlos has been teaching English in Berlin and the surrounding areas since 2007. Since beginning his teaching career, he has completed a TEFL and FTBE accreditation and regularly attends teacher-training workshops to learn more. After completing his Bachelor of Liberal Arts, he moved to New York City where he worked as a day trader and then later ran his own dog walking and training business.  He's originally from New Orleans, a city that is known for its friendliness and easygoing culture. He believes that this comes through in his teaching style and helps to create a comfortable and fun learning environment.
Karl
Karl started teaching German when he was still in school when, together with the international volunteers of his theatre association, he explored the curiosities of his language. After studying German and political science at the FU Berlin, he gained teaching experience in Burkina Faso, Madagascar, and-last but not least-in Berlin, where he has been working with learners from all over the world for many years. In his courses, it is important to him to take away participants' fear of complicated grammar and to make learners curious about the German language. Karl loves Berlin because the city is even crazier than he is.
Julia
Julia has been teaching English as a Foreign Language and Teacher Training in Europe, the Middle East, USA and China since 1990. Since beginning her teaching career, she has completed M.A. in Linguistics for TEFLA, and RSA/UCLES CELTA, and a Cert for Teaching in Higher Education. She has worked for Lancaster University, the British Council, Promethean Ltd, Oxford University Press and Houghton Mifflin Harcourt. After travelling extensively Julia now enjoys working from home in an online environment, helping students to achieve their language learning goals in a convenient and personalised environment.
She's originally from England and now lives in Scotland where she loves to walk in nature and see the changing seasons.
Barbara B
Barbara has been teaching German as a foreign language since receiving her EUROLTA certification in 2014. After completing a Bachelor's degree in Spanish and English Philology including one year study studies in Galicia, Spain, she started working as a Program Assistant at the Berlin Study Center of the University of California Education Abroad Program (UCEAP) in 2011 where she was able to gain relevant intercultural experience while working with diverse students.
In her German classes Barbara focuses on the specific needs of each learner, taking into account each participant's individual learning type.
JC
JC has been teaching English for over 15 years. He is CELTA and TBLT certified. He comes from New York and has been living in Berlin since 2008. JC grew up bilingual with English and French. and graduated from an international school, and then Berklee College of Music. His approach is very relaxed yet at the same demanding. JC has taught students from A1-C2 Level. He is also a fan of incorporating new technologies such as ChatGPT into his lessons. He believes that like with music, learning takes time, patience, determination, and practice.
Bernd
Bernd was born in Duisburg and has been teaching German since 2010. His clients include artists, scientists, musicians, management consultants, managers, marketing experts, employees of Berlin-based Internet start-ups, bankers and pharmacists-people who have come to Berlin from all over the world. He helps them to understand not only the German language, but also the local culture. His most important goal: for learners to speak and to acquire the language primarily through communication from the very first lesson. Bernd is also the author of two books on the German language: Ach ich fühl's - German for Opera Singers and Die Frist ist um - Navigate the Language of 10 German Operas.
Katya
Katya is a qualified TEFLA English trainer from England with a BA in Russian Studies and History from Leeds University. She enjoys working as a teacher because she loves working with language and enjoys being together with non-native English-speaking people from different countries. She likes communicating with them and learning something about their culture and way of life. In her free time, she enjoys reading, going to the cinema, visiting new places in and outside Berlin and singing in her choir once a week. Katya is also interested in learning foreign languages and she is working on her German skills. She loves the diversity of Berlin. One thing she never had back at home was being able to travel into the countryside in a short time and experience all the forests and lakes all for the price of one S-Bahn ticket.
Matea
Matea has 10 years of experience as a German trainer for learners of all levels. She's from the capital of Croatia, Zagreb, where she studied German language and literature (with the aim of teaching professionally) alongside Bohemian language and literature (translation and cultural studies) in the Department of Philosophy. Since 2016, she has been working as an instructor and certified examiner at the Goethe-Institut Croatia. She describes herself as a passionate teacher and it is therefore important for her to regularly engage in professional development; she believes that you should never stop with your own learning. Recently, she successfully completed the additional qualification at the Goethe Institute to become a teacher of German as a foreign language (Green Diploma).
Since April 2023 she has been working as a freelancer in her company Agramerin. She would like to have more time for her hobbies, traveling and organic vegetable farming.
Nayra
Nayra graduated from a German school in Alexandria, Egypt, where she spent 14 years learning the German language and culture from native German speakers.
She later moved to Leipzig to study German as a foreign language, and she has taught German as a foreign language as a freelancer at various language schools in Leipzig and Berlin since 2016. Travel and languages are her passion and she enjoys often traveling to many destinations throughout the world.
Slobodan
Slobodan has been teaching English since 2007. After a deep dive into Cambridge exam preparation and teaching teenagers and young adults, a shift came in 2016 and he started working online. Since 2018 his focus fully shifted to working remotely in Germany where he was teaching and training business English and communication skills in business. His bachelor's degree in teaching English, CELTA and CERT IBET were all good starting points, but most developments come from interactions with people, being curious and open to new experiences.
Hildegard
Hildegard started working in Seattle for the world's largest language learning provider in 2011, and trained for the German market when she moved back to Berlin in 2019. Due to the Corona pandemic, teaching shifted from in person to online video conferencing, where it still mostly takes place today. As an economics graduate, she finds it interesting to learn about new expressions in the business world from course participants. Staying up to date was also a particular concern of hers during the most active part of her professional life, when she worked for 20 years as a freelance journalist for various public broadcasters and traveled extensively. That's where Hildegard's penchant for incorporating Deutsche Welle videos into her lessons comes from. She puts a lot of effort into acquiring supplementary materials that appeal to learners and encourage self-study. And from her time in Seattle comes the top priority: a lot of talking in class--by the participants, of course!
Claudia
Claudia joined All on Board in 2019, having previously taught German as a foreign language at many schools and institutions in Berlin and Heidelberg as well as in Lima, Peru. She is a high school teacher of Spanish and French by training and has also taught in high schools for many years. Claudia has always enjoyed contact with students from many different countries and cultures and of all ages. She enjoys being able to teach students about German culture and everyday life, while also learning from them about their home countries. She likes communicative lessons where students can speak freely as much as possible and have fun while learning.
Allia
Allia was born in Ohio, after which her family moved to her father's home country of Iran where Farsi became her mother tongue. A few years later, the family moved back to the United States and eventually settled in the suburban ranch town of Temecula. As English is her second language, her struggles in school fuelled her to become a teacher in her most difficult subject: English.
Allia currently teaches online courses in English Composition and Argumentative writing for Saddleback, Irvine Valley, as well as teaching course for Volkshochschule Mitte and All on Board. She has over ten years of teaching experience working with a variety of student demographics with ESL/EFL as her specialty.
Allia graduated from Humboldt State University, obtaining a degree in Teaching English with an emphasis in teaching ESL/EFL learners. She received her California Teaching Credential from California State University, San Marcos and has earned a master's degree in literature and writing studies. Since her degrees incorporate specializations in teaching English as a Second Language, she has taught at-risk youth, adults in continuation programs, first generation high school graduates, as well as ESL/EFL students. She has developed and presented English Language workshops and training seminars for students, teachers, and businesses.
Christina
Christina is an English teacher from Toronto, Canada and has been teaching English for 8 years. After graduating with a Specialist in English in Toronto for her bachelor degree, Christina obtained her teaching degree in Sunshine Coast, Australia. She specializes in English for specific purposes where she teaches technical English, business English, and currently, scientific writing at a university in Germany. Having lived and taught in Canada, Australia, and Germany, Christina loves travelling, meeting new people, and bringing a collaborative, fun environment to her classroom.
Cornelia
Cornelia has been teaching German as a second and foreign language since 2015, when she was asked by a professor if she wanted to volunteer to teach a group of refugees. She enjoyed the experience so much that in 2018 she started a second bachelor's degree in Spanish and German as a second and foreign language in order to obtain theoretical knowledge to complement her volunteer work experience. After several years of teaching, she decided to dedicate herself to language teaching full-time in 2021. Since then, Cornelia has been a freelance teacher of German as a second and foreign language. In order to keep up to date with the latest developments in language pedagogy, Cornelia has completed DLL Premium Basis, an 18-month advanced training course for teachers at the Goethe Institute, and is studying for a part-time Master's degree in German as a Second and Foreign Language at the Philipps University in Marburg.
Cornelia's pronounced intercultural interest is not only reflected in her professional life, but also in her personal life. In addition to living in various cities in Germany, Cornelia has also lived in Andalusia in Cordoba, Spain, and spent 6 months in Ghana in the capital city of Accra. Cornelia grew up bilingual with a French mother and a German father and additionally speaks English (C1 level) and Spanish at a B2 level.
All on Board
All on Board GbR
Friedrichstr. 68
10117 Berlin
Tel: +49 162 6618142
info@allonboard.de
www.allonboard.de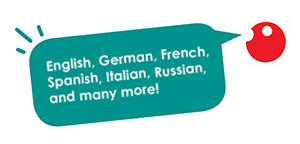 Reference:
"Finally I have learned and understood the right use of tenses, this was exactly what I expected. Business vocabulary was also new for me and it is great to know some more practical words."
Course participant from Brands4Friends