Private Clients – Steps to Success
First Meeting:
Goals that you would like to achieve in the language lessons are set together in a face-to-face meeting. We identify your specific needs as well as determine group size and basic course structure.
Placement Check:
Next, All on Board conducts an online Placement Check for the language you want to learn. This ensures that the lessons are best suited to the level of the participants.
Initial Feedback:
We conduct an initial feedback session after three meetings. If necessary, All on Board will enact any changes you request which ensures that you get the most from the training.
Observed Lessons:
All on Board sends an observer to the course. There are two reasons for this: All on Board guarantees that our customers' demands are being professionally met. Additionally, our instructors receive constructive feedback about their work.
Final Exam:
Wir bieten den Teilnehmern einen Abschlusstest an, der das erarbeitete Wissen überprüft und sie für die nächste Kursstufe qualifiziert.
Certificates:
We offer a final exam, which checks the knowledge gathered and qualifies the participants for the next STEP.
Course Evaluation:
At the end of each STEP, the course participants provide feedback on the course by means of a Course Evaluation. This unbiased evaluation forms one of the most important foundations for the continued quality of our language instruction.
Extension:
After the feedback is received, we use this to plan the next STEP!
This model ensures successful language instruction at the highest level. You gain proximity to language and culture that is useful for you in everyday situations.
All on Board
All on Board GbR
Friedrichstr. 68
10117 Berlin
Tel: +49 162 6618142
info@allonboard.de
www.allonboard.de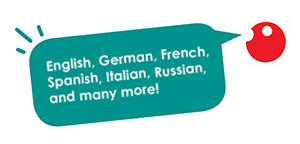 Reference:
"Open, lively, diverse materials and role plays - never boring!"
Course participant from Deutsche Welle