Language Level Check Service
Do you need a certificate verifying your level of English, German, or French?
Using our expertise in language testing and the Common European Framework of Reference, we can assess your English, German or French and send you a certificate which states your level.
Steps:
You complete our online level test, which takes about an hour. This test assesses your grammar and vocabulary knowledge.
Schedule a 10-minute telephone conversation with one of our assessors. In this conversation, we will assess your speaking and listening skills. Based on the online test and the conversation, we determine your level
Receive your certificate in the mail, stating your level.
The price for this service is €40, plus VAT.
All on Board
All on Board GbR
Seestr. 27
13353 Berlin
Tel: +49 (0)30 - 39 83 39 93
Fax: +49 (0)30 - 39 83 39 92
info@allonboard.de
www.allonboard.de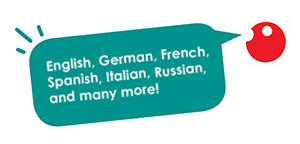 Reference:
"Definitely the most useful English course I've had so far at eBay. Important details for the everyday work routine."
Course participant from eBay