Corporate Clients – Language Instruction: Terms and Prices
You will find an overview of All on Board's terms and prices for Berlin below. All on Board also offers training in many European cities. Please contact us for rates for your city.
Prices
Participants


Total price
per lesson unit*
Price per Participant/
Lesson Unit*
1
€ 37.40
€ 37.40
2
€ 40.40
€ 20.20
3
€ 43.40
€ 14.47
4
€ 46.41
€ 11.60
5-9
€ 49.40
€ 5.49 - €9.88
* VAT not included
Terms & Services
If you would like more information or a personal consultation, contact us at info@allonboard.de.
No high/low season rates
No registration fee
No placement check fee
No final exam fee
No blended learning fee
Customized seminar materials are included in the price.
Course books may be obtained from All on Board at the normal retail price.
One lesson unit consists of 45 minutes.
A Course Evaluation completed by participants follows the completion of every Step and is used as a target-performance analysis of the expectations, targets and the things actually learned.
All on Board
All on Board GbR
Friedrichstr. 68
10117 Berlin
Tel: +49 162 6618142
info@allonboard.de
www.allonboard.de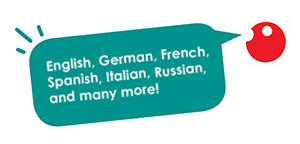 Reference:
"Pleasant and relaxed atmosphere: Learning without realizing that you are learning!"
Course participant from eBay